Well, basically I am just copying previous posts from my
crafting livejournal account
. I discovered I couldn't use the cute lil progress bars on there, and I can on here (mind you, I don't actually know how to put them in yet).
Most importantly though, I got this blog to participate in the
Delphine Wilson knit along
. I'm excited because this will be the most difficult thing I've ever attempted, and I have never done a KAL (that's shorthand for knit along) before. The people are so nice and have already been tons of help! Although the Delphine sweater still looks daunting, it now seems very possible.
My yarn for the sweater came in a couple of days ago, and since I have to go to Monroe tomorrow anyway for a dr. appt., and since I have some crap I need to take to mom's anyway, I can pick it up then. I'll be using Wool of the Andes, from Knitpicks, in the color Fog. I hope it is as light gray as it appears; the photo on my monitor looks almost silver. I didn't want to use white because I can't stand dingy white, and I couldn't imagine trying to bleach this; I'm pretty sure that would have bad results! This is my first Knitpicks' order and I am pleased with their fast shipping. Their site says 5-14 days, but it was definitely closer to 5 than 14. I didn't count, but I'd say 6 at the most. I also got some lilac sock yarn (I've never tried socks before!), and some yarn to dye using Kool-Aid (that will be fun!). Oh, and I also got some WotA in their Hyceanth (or however you spell that) color. I'm not normally a fan of really dark colors, but on the webpage, this deep blue appears to have a strong purplish tint to it, and it reminds me of the beautiful blue-purple color used in
What Dreams May Come
. I've wanted something in that color since I saw that movie. I can't believe how cheap their yarn is! I'm also excited because it will be the first 100% wool yarn I've worked with, I think. I've mostly messed with acrylics, cotton, and acrylic/wool blends.
Ok, so now from the LJ.
WIPS
Ella Scarf
- crochet, using Lily's Sugar and Cream (~ 40% complete)
Americana hat
- crochet using Red Heart Worsted, to match the scarf I made my grandma for Christmas (she loves the patriotic things)(~20% complete)
A hat for me - crochet, using Lion Brand Homespun, Red Heart Light and Lofty, Red Heart Worsted, and crochet thread (~80% complete)
DNA scarf
- knit, in Caron's Simply Soft (no dye lot, because I want it to be longer than pictured, and don't know how much extra I will need) (~ 10% complete)
Small flower - crochet, in crochet thread (~ 70% complete)
Fabric-knit purse - knit (~10% completed)
Delphine sweater
- knit, in Knitpicks' Wool of the Andes. Currently, I am only working on constructing the pattern for this sweater. Don't expect this to be finished any time soon, it is the most complicated project I've worked on. Yay!
To-do list
(someday)
Soon - Hat for my nephew Dustin - knit, Red Heart Worsted?
This
silk corset top
- knit, in Knitpicks' Shine? I'd love to do it in silk, but it will only cost about $25 to make it in Shine, double-stranded. No one has told me how this would work for this top though.
Something for my boyfriend's mother, she is so sweet! I saw a clapotis knit in beautiful recycled sari silk, and I think that might be a wonderful choice for Mrs. Nancy.
Something pretty and lacy for my elementary G/T teacher, Mrs. Knight... she was such a great teacher.
A sweater for my mom
A knitting bag, - knit, felted or cotton with fabric lining
A knitting needle case - knit, felted
A
felted cloche
like Ann Darrow wears in
King Kong
, if I can ever find or design the perfect pattern
A fish bag from
Folk Bags
Kimono Sweater
from
Knitpicks
The Lion Brand Incredible
ribbon shrug
and
camisole
in the Spring/Summer '05 issue of Knit.1
This
wrap
from the same mag.
The
ballet wrap
from
Interweave Knits Spring 2005
. If anyone has a copy of this issue he/she would like to get rid of, please let me know! I think it's still available from the site, though.
The beautiful
butterfly jacket
from
Noro Knits
. I don't have this book yet either, so again, if you have knitted everything from it you want, and want to get rid of it, contact me. Right now, I'm planning on buying it from the linked site, but if you know of a cheaper place, tell me. :-)
There are tons of other stuff I've found and love, but those are things I will definitely make eventually. I have a lot of schoolwork on my plate though, so I won't be diving into any new projects soon. I also have some scrapbooking pages to complete.
Some completed projects
Crocheted hat made of Moda-Dea Dream and edged with Lion Brand Trellis, plus a flower pin of crochet thread and scarf made of Berroco's Medley. The flower is not supposed to be in the middle, but I didn't check it before taking this pic.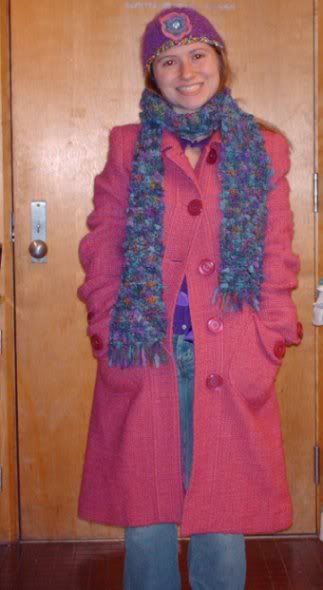 One button cardigan from Spring/Summer '05 Knit.1, in Lion Brand Homespun Coral Gables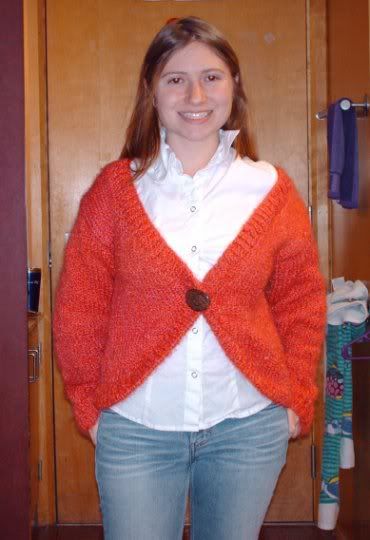 Hat I made for my nephew Jeremy, my first 2 color work, in Red Heart, modeled by my sweet, handsome, and silly boyfriend Dusty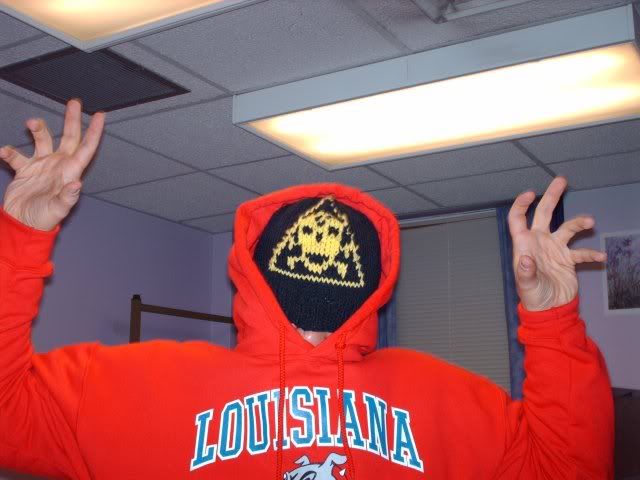 Short row scarf made for mom as a Christmas gift, Red Heart in Farmland colorway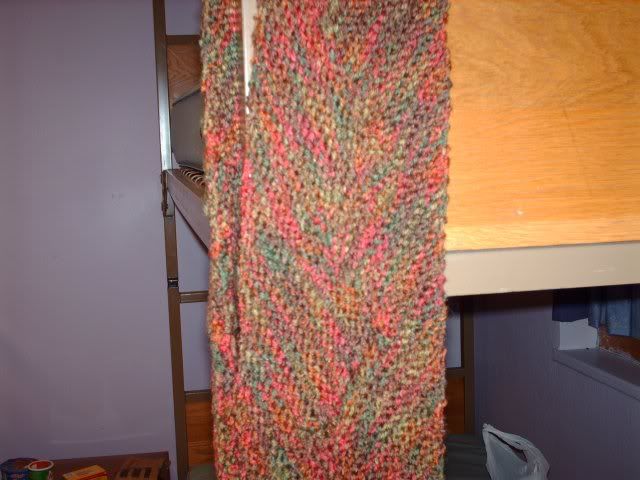 Slightly modified Candy cardigan from Knitty.com, in Moda-Dea Dream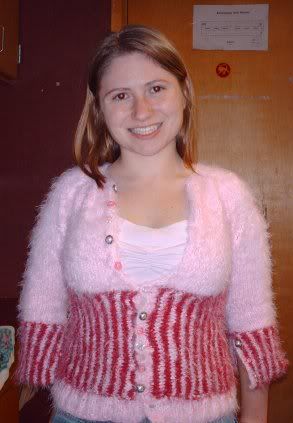 Here is my first "knitting mistake." Actually, it's crochet, and it's a hat. I saw this beautiful hat made of yellow, white, and pink/coral bulky handspun yarn, with a huge flower on it. Then I lost the link to it, and couldn't find it again, but thought ok... I can crochet, too, so I will just replicate it. So, in order to get the unique look of the yarn, I used yellow Red Heart Light and Lofty in the Citrus Shades colorway, Lion Brand Homespun in Coral Gables, Red Heart worsted in white, and a really pretty sparkley white crochet thread. Well, the results were nowhere near as pretty as the original hat, and I actually think it looks pretty horrible. But anyway, here it is.
From the side
Ok, here is a hat I whipped up in just a couple of hours. It's knit, made in Lion Brand Homespun, Mardi Gras color.
Some of the flowers for the Ella scarf
Some little flower pins I whipped up. These are really easy and quick, and if any of my friends would like one, I don't mind making them.
Not a finished object, but I just love this yarn. It's Moda-dea Cache, and I believe it wants to be wristwarmers, since I only picked up one skein. It's so beautiful!
Here is the first thing I ever completed, another hat crocheted in the Dream yarn.
Here is a closeup of the purple hat I mentioned in my last post.
And here are more flower pins
I made this over MLK weekend.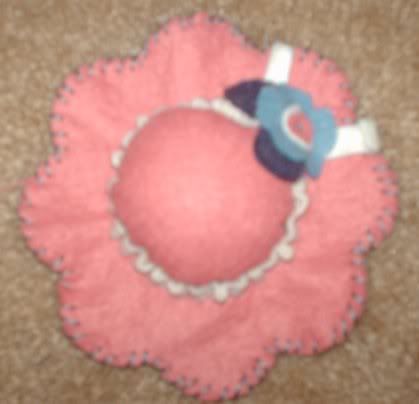 I got the pattern from bhg.com. This one is really small, but I am going to make a large one soon. I think it turned out so well!! :-D
Today, I finished all of the flowers for the Ella scarf. Now I just have to crochet the borders and join them together. Yay!
I've almost finished my grandmother's hat. I may not have it done tomorrow, but I'm hoping to, so I can leave it with mom, who can give it to grandma.
Other artwork can be viewed by clicking on
this link