Well, it's been awhile since I have updated. I've been on quarter break, been to Mardi Gras, got a new kitty, and done some knitting, of course. Over the break, I also made this: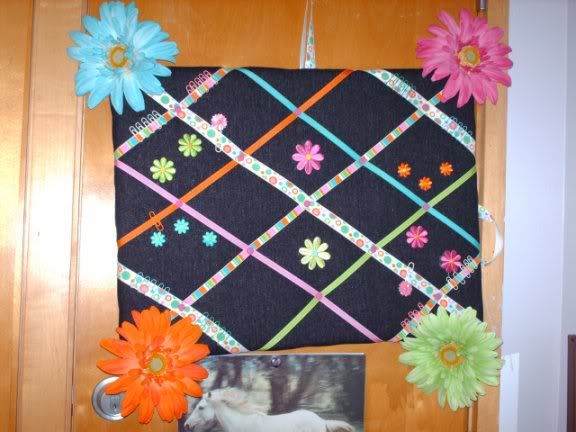 Here's a close up of the ribbon used: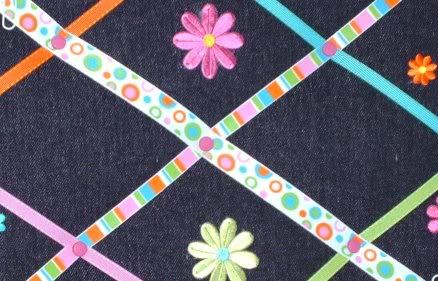 Isn't it cute?!
I also got quite a bit done with my
Folk Bags
chinese fish bag; in fact, I have only to do the embroidery and I'll be done. Since I don't really know how to embroider, I'm a little nervous about messing with it. It looks so cute thus far, though! I took it into Knitwits knit shop when I was in Mandeville, and everyone just loved it. The people there are so nice, friendly, and helpful; I really recommend their shop. They also gave me some advice on needle felting, which I've never done, but was thinking of trying instead of the embroidery to make the designs on the bag.
I also finished the ribbon shrug from
Knit.1
Spring/Summer '05... well, almost. It is a little big for me, so I am trying to find a way to remedy that without ripping it out... it's not so bad that I can't wear it now, but I would love it so much if it fit just the way I want. I was thinking maybe elastic would do the trick. It's adorable though; I haven't taken any photos yet of it, but I will soon and post them here.
Also, here's a link to a kitty picture and story, if anyone is interested. It's a photo of Butters!
See my kitty!
No more work on the Delphine sweater yet, thanks to all the distractions I have had lately. I started on the silk corset top instead of working more on my sweater. Bad Crystal. Bad, bad Crystal. I'd love to finish it by my b-day on Mar 16, but I seriously doubt that will happen! It's lovely though, and going quite well after I got my confusion about yarn overs straight. This is my first project using lace! The Brilla is wonderful, and I'm currently wondering what else I can make from this yarn. I have a feeling it's going to be fab against the skin, and nice for Louisiana's almost eternal warm weather.
Alright, that was the short update. I'm going to work on my corset top some more. And then study. Stay tuned for pics of Mardi Gras; I'm going to scan them and post. We got some great pictures of all the costumes from the contests!