I now have two completed sleeve bottoms. Yay!!
I know people are just dying (ok, so maybe not!) to know what I'm doing for the top part of the
Delphine sleeve
. Well, I've been thinking about it alot, and have run two or three different ideas around in my head, but I've finally settled on something I think will look really nice. I don't particularly care for the holes in the sleeves of her sweater. True, they are very interesting and make you wonder how she did them, but well... I just don't see the practicality of a sweater with holes in it. I mean, the whole idea of a sweater is to be warm, and well, this just seems to be defeating the purpose a bit. So, instead, here is a little drawing of my proposed sleeve. The picture looks pretty bad, because I sketched it as quickly as I could. But anyway, here it is, with a little explanation.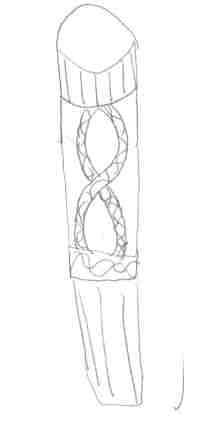 This picture isn't perfect, but it's close enough. For the upper section, I plan to do another tube, again, picked up from the armband. I'm going to do two regular cables. The tricky part is that I want mine to cross over one another like hers do, except no holes. So I'm (hopefully) going to have two cables, that are going to travel in a curve and cross over at the elbow of the upper, and then come apart again at the armband... assuming I can figure this out. I'll do some shaping and all...hopefully this will work out; I'm just going to fudge it until it does. I am so glad I'm not afraid of ripping out!